The world's most interesting cafes.
I spend much of my life in cafes. The coffee gets me in there but I stay for the atmosphere and experience. some of the things I like doing at cafes include reading, thinking, working, interviewing, people watching, and playing scrabble. There's something about cafes that make you comfortable being solo. These are some of the most interesting cafes I have visited.
Gallery Drip Coffee, Bangkok
Located at the Bangkok Art & Culture Centre, this is the most unique cafe I've ever seen.
That's Pi meticulously making his pour over coffee. He says he will never have an espresso machine in his cafe.
Pi does hand grind the coffee for every cup he makes butthis one is placed on customer tables as a prop signifying the importance of craftsmanship in coffee making.

For a detailed write up on Gallery Drip visit http://www.angloitalianfollowus.com/gallery-drip-coffee-bangkok/
Roast Coffee & Eatery, Bangkok
This one is at Thonglor in the swishy part of Bangkok.
The menu card is designed like a tabloid newspaper and changes every month. Food is beautifully presented and yum.
The interesting feature of this cafe is their roaster Korn Sanguankeaw, a young talented musician who has developed a reputation as one of Bangkok's best coffee roasters. His company Roots supplies to most leading cafes in Bangkok.
More on Roast Coffee & Eatery at www.roastbkk.com
RISTR8TO, Chiang Mai
Chiang Mai has a buzzing cafe culture in spite of being a little town way over in the north of Thailand. That's because of the phalang tourists who have made it a base and started sourcing coffee that grows further north near Chiang Rai and sending it back home to where coffee fetches a pretty price.
Ristr8to is a specialized cafe. Their menu card is called a Specialty Coffee Guide and they descibe themselves as a Latte Art Cafe & Single Origin Roasters.
Chalk board style interiors is a common them with artisan cafes. I love this one because of the estate to cup route that is traced through the chalk art.
First time I saw coffee served liked this. Pour over black coffee with hot water on the side. And a little card with tasting notes.Beautiful. And this is a little semi rural town in Thailand, not NYC!
Whyte Cafe, Colombo
Thanks to my Scrabble buddy Shaila for telling me about this place. Sri Lanka is the worlds largest grower and exporter of tea and there are tea shops and parlours all over the place. Good coffee is hard to come by, but Whight & Co. Cafe hits the spot. They've also got the plantation to cup story nicely portrayed on their wall.
The location is also terrific. Whight & Co. Cafe is at Bambalpitya right on the sea. Perfect for breakfast and gazing out at the blue yonder.
Whight is also very particular about their coffee. They have a spanking new Probat roaster in the cafe with a big viewing window for theatrical value.And they make their pour over with Hario equipment right down to the Hario digital scale.
The Ristr8to web site is at http://www.ristr8to-coffee-chiangmai.com/
Starbucks, Pike Place Market, Seattle
This cafe is modeled on the first Starbucks cafe that was opened in 1971 at Pike Place Market. I spent a few hours here in 2012 and it was here that the idea of Estate Craft started forming in my mind.
Gloria Jeans, Indiranagar, Bangalore
This is the cafe I've spent more time than anywhere else. Probably visited about 200 times in the last year. Was saddened to see it close down in spite of my regular custom. Clearly only Cafe Coffee Day gets cafe economics.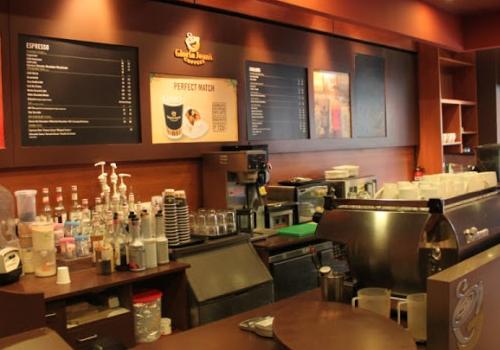 My first few packs of Estate Craft were ground by Gloria Jeans on this counter.
I've written many business proposals , closed many deals, met many strangers, and fallen in love with coffee and cafes many times over at these memorable cafes and others I haven't mentioned in Bangalore, Mumbai, Delhi, Hyderabad, Bangkok, Saigon, SIngapore, Siem Reap, Colombo, Paris, Amsterdam, and Madikeri - the cities of my life.
---